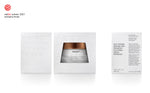 Innovative skincare brand wins international design award ahead of launch.
The Red Dot Design institution has awarded Greek skincare brand Aenaon with the official "Red Dot" mark of high-quality design.
The Red Dot Design Award is one of the biggest design competitions in the world, critiquing in product design, communication design and design concepts.
Aenaon, an innovative and advanced technology cosmetics brand, has won an internationally recognised award in packaging design ahead of its launch. 
"Aenaon is an advanced technology cosmetics brand with a scientific character and luxurious aesthetics. The products feature drone technology and high efficacy results, the formulas stand strong on their own without shouting and selling, it was important for the packaging to reflect these core traits," shares Aenaon founder Eva Tsandis.
The Aenaon award winning packaging displays its simple logo that forms part of the product description and is accompanied by a small circle as a symbol of endless time. In showcasing the valuable and luxurious object, the packaging also works as a display. The lettering in the box is pressed to support its technological excellency and purity without any unnecessary elements. With a minimal brand identity, Aenaon chose a conical shaped jar to support its uniqueness. Aenaon partnered with Athens based design agency Bob Studio to develop a holistic design identity.
Prof. Dr. Peter Zec, founder and CEO of Red Dot, says "A strong brand and its strict management have always been important elements in creating customer loyalty. Now more than ever, brands offer the opportunity to be different and to identify with something. As a winner of the Red Dot Design Award, you have proven this and created a consistent yet modern brand image that embodies authentic values that help guide the customer and create trust."
Aenaon will now launch its brand with the highly regarded internationally acknowledged seal of outstanding design known as the "Red Dot". The prestigious award puts Aenaon in stead as a globally recognised, high science skincare brand.