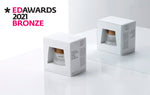 Aenaon and Bob Studio receive Bronze Award in the European Design Awards
VIVOTRON Laboratories is a research organization, specialized in the development of high-quality cosmetics products for global brands. Using their long experience in the field, they decided to create their own brand and asked us to design an advanced technology cosmetics with a scientific character and luxurious aesthetics.
We named it Aenaon which means eternal in Greek, inspired by the direct association of beauty and time and the efficacy of the brand to reverse time. A minimal and clean typographic approach was decided to capture the characteristics of each product and emphasise on the technological character of the brand.

The logo is simple and forms part of the product description accompanied by a small circle as a symbol of endless time.

Packaging works also as a display and resembles to a showcase of a valuable, luxurious object. Lettering in the box is pressed to support its technological excellency and purity without any unnecessary elements.

Because the box and the identity are so minimal, we chose a conical shape jar to support uniqueness and differentiation.
Read the original post here.