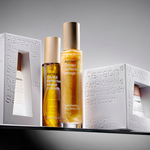 The website cosmopoliti.com writes about Aenaonº: 
A journey in perpetual beauty... A journey in perpetual beauty has just begun. Eva Tsanti, Chemist MSc & creator of the premium Greek skincare brand Aenaon° invites us to a world where beauty is a perpetual and eternal concept. A new Greek venture where the power of Nature and Science is the "heart" of effective care.

Aenaon°'s promise is to continue researching innovations in skincare technology and to offer the best possible results in the most natural and powerful way possible. All Aenaon° products feature the brand's signature fragrances, with notes of blue ginger, white flowers, amber and sandalwood, which create a luxurious skincare experience that awakens the senses and establishes itself as a unique daily skincare experience for every woman.


See all the products here: