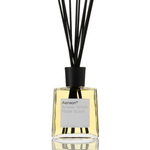 Yourtipster.gr magazine writes about the luxurious Aenaon Amber-White Floral Diffuser.
From the very first moment of its presence in the Greek market, the premium Greek skincare brand Aenaon° has managed to stand out for the scientific innovation of its formulations and for the signature fragrance of its products.

With the olfactory factor playing its own important role in our daily care, the notes of blue ginger, white flowers, amber and sandalwood found in Aenaon° products elevate the care of our face and body to a 'haute' ritual. As a brand that stands for high aesthetics in all its manifestations, Aenaon° evolves its portfolio with the creation of the Amber-White Floral Diffuser that brings the signature fragrance we love, into our space.
See the product here: 
Aenaon Amber-White Floral Diffuser