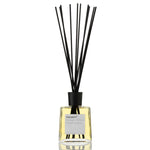 Beaute Magazine recommends the Aenaon° Amber-White Floral Diffuser for luxurious aromatherapy at home. 
In autumn, the need to spend more time at home increases. With small touches, we can create a cozy atmosphere that will relax us. Room fragrances, are a perfect way to take time for those precious moments of calm. After all, it is no coincidence that nice smells balance the senses and lift the mood. That's why, the premium Greek skincare brand Aenaon°, which is distinguished for the scientific innovation of its formulations and for the signature scent of its products, launches the Amber-White Floral Diffuser bringing this characteristic scent to our area.

Aenaonº's signature fragrance is enclosed in a stylish, minimal bottle while decorating the home. The timeless luxury of diffusers is combined with the sensation created by the unique fragrance of the Aenaon° Amber-White Floral Diffuser. The notes of blue ginger, white flowers, amber and sandalwood promise to transform your home into an oasis of peace and tranquility. Refreshing notes of orange and grapefruit blend harmoniously with the sophisticated fragrance of jasmine and magnolia. Balancing the sweet, earthy notes of amber woods.
See the product here: Aenaon° Amber-White Floral Diffuser